&nbsp

Award Recognition, Media Praise, and Upcoming Events and Exhibitions
A Space for Faith: The Colonial Meetinghouses of New England
For more information about the book, or to order copies, please visit: A Space for Faith.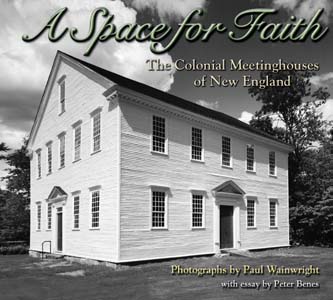 New England Book Festival Award:

Bruce Haring, Director of the New England Book Festival, said: "A Space for Faith shows a true artist's eye for detail and serves as a wonderful guide to a part of the region that deserves more attention."

The entire press release may be viewed here:
press release.

My acceptance speech (about 3 minutes) may be heard here: acceptance speech.
"Paul Wainwright's image of a narrow, unadorned wooden pew in a 1785 Massachusetts meetinghouse is a contemplative marvel... The composition is really nothing more than a precise arrangement of light and dark angles and planes that visually advance and recede in space, but its spare clarity seems to embody the essence of the lives that once prayed there."
Minneapolis Star Tribune
Recent Media Praise:

A Space for Faith continues to attract media praise, including:


To view all reviews, feature articles, and awards, please visit:
Awards and Reviews.
"An essay by Peter Benes offers insights into architectural origins, denominational differences, and meetinghouses as centers of town life... This book is a fine tribute to some of those survivors."
Maine Antiques Digest
Upcoming Presentations:

This spring I have several presentations of my illustrated lecture The New England Meetinghouse and its Impact on American Society, including:



Thursday, April 7, 2011, 7:00 PM: Westford Museum and Historical Society, Westford, Massachusetts. Presentation and book signing. Free and open to the public.


Tuesday, May 10, 2011, 7:30 PM: Salem Historical Society, Salem, New Hampshire. Presentation and book signing. Free and open to the public.


Tuesday, May 24, 2011, 7:00 PM: Wilmington Memorial Library, Wilmington, Massachusetts. Presentation. Free and open to the public.



To view all upcoming events, please visit: Upcoming Events.

To book a presentation at your venue, please Contact Paul.
"A Space for Faith is an excellent resource of images and historical background on early architecture in the United States. For architects in America, the design of these buildings, at the heart of communities in New England, hold great interest. They are some of the earliest buildings our country has."
All Things Fulfilling Blog
Exhibitions of My Work:

Now that the dust has settled with the launch of my book, I have turned my attention to exhibitions of my work. Here's what is currently in the works:



The Gallery at Hallmark, Hallmark Institute of Photography, 85 Avenue A, Turners Falls, Massachusetts. July 22 - September 4, 2011. Opening reception and book signing with refreshments and live music Saturday, July 23, 1:00 - 5:00 PM. Free and open to the public.


Tentative: Franklin Pierce University, Rindge, New Hampshire: 2011/2012


Tentative: Baldwin Photographic Gallery, Middle Tennessee State University, Murfreesboro, Tennessee: 2011/2012

To book an exhibition at your venue, please Contact Paul.

In addition to these solo shows, photographs from my meetinghouse portfolio are currently included in these juried exhibitions:


"By any measure, anyone who opens the covers of A Space for Faith will agree that Paul Wainwright has performed the unique service of bringing a profoundly important chapter in our Puritan cultural history to life."
Don J. Wyatt, Cardell Distinguished Professor of History, Middlebury College
Free DVD Available for Community Cable Broadcast:

The Derry, New Hampshire community cable television station has recorded a 30-minute interview with me about my meetinghouse photography and book, which is available free of charge to other non-profit community TV channels. It will be of interest to any community that has an interest in their historic buildings, particularly if they have a former meetinghouse. If your community has such a channel, you may request a free copy of the DVD by sending e-mail to me: Contact Paul.